Final Product What You'll Be Creating
---
Creating the Background
Create a new file. Set Width to 1000 and Height to 1000 and the resolution to 72 PPI.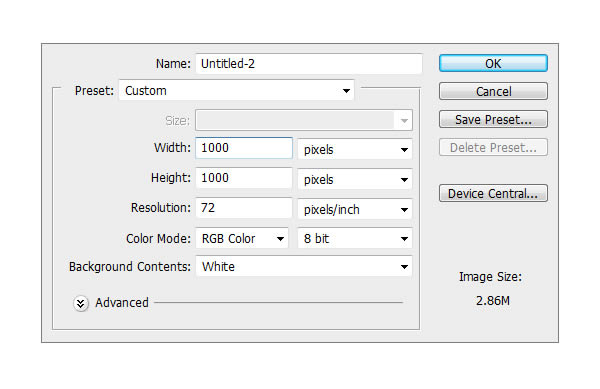 ---
Applying the background pattern
Make a new Group and name it Background. Now go to this link Vertical cloth Pattern and download this pattern and load it. Using Rectangle Tool (U) draw a rectangle shape a little bigger than the canvas, and apply the pattern as a style to the shape layer.
---
Creating the button – Step 1
Create a new Group and name it Button. Using Elipse Tool (U) draw a perfect circle like the one in the example. Set the color to #0e0f0f and apply the layer styles. After you are done with the layer styles, reduce the Opacity to 20%.
---
Step 2
Now make another circle, this time a little smaller, set the color to #222429 and apply the layer styles.
---
Step 3 – Locating and applying the texture
Navigate to Pixeden site and download the Old School Retro PSD Text Effect inside wich we will find the texture that we need. After you've downloaded the file, open it with Photoshop and locate the layer called Grunge Texture. Import that layer in your PSD and set the blending mode to Pin Light and the Opacity level to 10%. Make this layer a Clipping Mask.
---

Step 4

Using Elipse Tool (U) make another perfect circle also smaller than the one before him, set the color to #0d0d0e and apply the layer styles. Using Brush Tool (B) set the size of the brush to 200px and the Hardness to 0% and make a white #ffffff dot like the one in our example. Set the blending mode to Soft Light, and the Opacity level to 80% and transform this layer into a Clipping Mask. Now make another layer, change the color to black #000000 and brush around the lower part of the circle like seen in the example. Transform this layer into a Clipping Mask also.

---

Step 5

Again using Elipse Tool (U) make another perfect circle but make this one a few px smaller than the previous one. Set the color to #1a1a1b, and using Direct Selection Tool (A) move the lower anchor a few pixels to the top. Now apply the layer styles, import the Grunge texture again, set the blending mode to Linear Dodge and the Opacity level to 10%. Make a new layer, and using Brush Tool (B) keep the same settings that we used on our previous step, pick white #ffffff as our color, and brush away at the bottom part of our shape. Set the blending mode for this layer to Soft Light, and transform the layer into a Clipping Mask.

---

Step 6

Using Horizontal Type Tool (T), set the Font to Myriad Pro (standard font), Bold and the size to 48pt and write down the letter "I". Set the color to #969696 and apply the layer style. Make another type, this one will say "O", set the color to #fefefe. Right click on the layer, and select Rasterize Type. Now pres CTRL/CMD + T and holding CTRL/CMD + SHIFT + ALT drag the lower left corner to the left a few pixels. Apply the layer style and we're done.

---

Final Image

Source : psd.tutsplus.com